Head Coach Karl Brown has cut his England Under-18 squad down to fifteen following the opening two days of their camp in Nottingham this week. The team, who face a warm-up tonight against Division 1 champions Reading Rockets, will fly out to Germany at the end of this week for the world renowned Albert Schweitzer...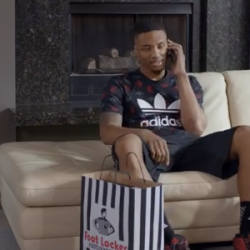 Check out Foot Locker's latest offering, a hilarious commercial featuring Damian Lillard, Karl Malone and...
Since its debut last year, sneaker freaks will now know February as 'Approved Heat' month,...
Duco van Oostrum's final blog about the 2013 Great Britain Under-20s, reflecting on the campaign...
Check out 1995 born big man Kingsley Okoroh showing his skills in the summer of...
Alan Stein and Adam Bradley, co-hosts of the Hardwood Hustle Basketball Podcast, traveled to Bristol,...