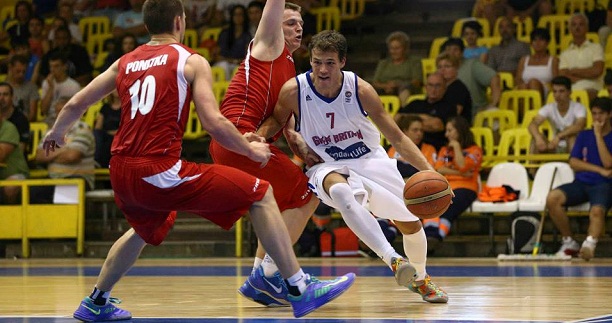 The Great Britain Under-20s upset Poland with an 83-74 victory on Tuesday afternoon to remain the only undefeated team in Group A at the Division B European Championships in Romania.
Devon van Oostrum scored 18 of his 37 points in the fourth quarter and made five crucial free throws down the stretch to lead the U20s to a 4-0 record.
"In a tough tournament Poland are the heavy favourites; they are well coached and have talent up and down their roster," said head coach Doug Leichner after the game. "I have followed their 1993 generation since they competed at under-16 level and believe they are as good a generation in Europe for this age bracket.
"The game was very physical and the referees let the players decide it on the court. Joe Hart was cold blooded from behind the arc and kept us in it early. Defensively John Stewart, Raphell Thomas-Edwards and Nick Lewis kept Mateusz Ponitka off balance and earn his points.
"In a game full of contact we were fortunate to win the battle of the boards. Matthew Don was a key to our fourth quarter run with his defensive presence."

Nick Lewis had 20 points in 25 minutes off the bench, going 6/8 from beyond the arc, as GB went 13/22 from three point land overall. Joe Hart finished 11 points, going 3/3 from deep, with Zak Wells adding 6 points and 7 rebounds.
GB will look to finish the opening round with a perfect record as they take on Hungary on Wednesday at 3:15pm UK time.
Image Credit: GB Basketball
You'll probably like these :