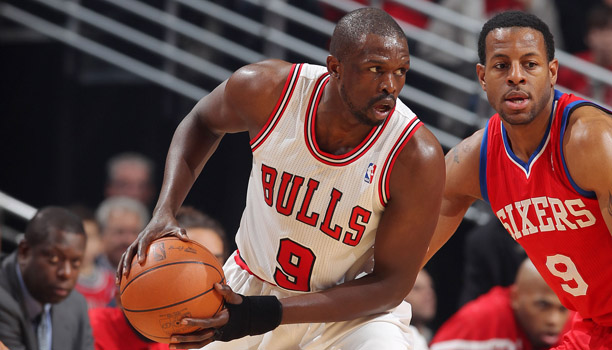 Great Britain and Chicago Bulls star Luol Deng continued to add to his storied career last night as he was named to his second straight NBA All-Star game as an Eastern Conference reserve.
Deng, largely considered one of the most under-appreciated players in the league, has one again emerged as one of the league's best perimeter defenders and the team's MVP, according to coach Thibodeau, as he continues to play with a torn wrist ligament.
Without superstar Derrick Rose, most had considered this season was going to be a write-off for Chicago, but Luol, who last season become the first ever British NBA All-Star, has led Chicago to a 25-16 record, good for fourth place in the Eastern Conference.
The 6'9″ forward took to Twitter last night and said:
Thanks to my teammates and the coaching stuff for inspiring me and helping me play to the best of my ability.

— Luol Deng (@LuolDeng9) January 25, 2013
Thanks to the whole Bulls staff and of course @eftsportschi for all your hard work. its a pleasure + honor to play for this city every night

— Luol Deng (@LuolDeng9) January 25, 2013
And despite being pleased with his selection, he affirmed that there are bigger things on his mind for this season:
This is great and it's an honor, but we all know what we're after in this city. #TheReturn #SeeRed #WeSeeYall

— Luol Deng (@LuolDeng9) January 25, 2013
In his ninth season with the Bulls, he is averaging 17.4 ppg (team-high), 6.4 rpg, 3.0 apg, 1.08 spg, 39.8 mpg (career-high; ranks first in the NBA) and shooting .442 from the field, .340 from downtown and .818 from the free throw line. Deng has led Chicago in scoring 12 times and has posted a team-high 13 games with 20 or more points.
Fans will be hoping to see more of Luol this year after he played just six minutes in the 2012 game after tweaking his wrist early on in the game. However, he is currently sitting out with a hamstring injury, so it may be another opportunity to get some rest.

The 62nd NBA All-Star Game will be played at the Toyota Center in Houston, Tex. on Sunday, Feb. 17, 2013 (7:00 p.m. CT).
Massive congratulations to Luol! Represent!
Image Credit: Gary Dineen/NBAE via Getty Images