By Luke Hatfield | @Luke_Hatfield
Another British basketball talent set to continue his stint in the States is former Reading Rocket Kofi Josephs (1991 born).
The 6'6″ guard is set to hit the US college scene after acquiring a full scholarship at NAIA school John Brown University, Arkansas, and is looking to cement a starting spot as soon as he can:
"There are a lot of juniors and seniors this year that will be gone by next year, I have a good chance [At starting], but I just have to go in, work hard and play my game with confidence," said the sharpshooter who arrived on campus earlier this week, but won't suit up until next season after electing to redshirt.
"I want to go college, improve my game and hopefully go try my luck in Europe to see how far I can get with basketball"
Kofi had originally committed to join Division 1 school Mississippi Valley State, yet discovered that because of the NCAA's strict (and often confusing) rules he would have to sit out and lose one of his years of eligibility.
"At first I committed and signed with Mississippi, but because of years of eligibility, I would have had to sit [on the bench] for a year, which is something I didn't want to do," he explained. "The NCAA didn't tell anyone until my flight was booked and it was all a bit crazy. It was weird because I had loads of different places talking about me, but I believed John Brown University was the best overall option for me, especially after speaking to the coach and looking at the facilities they had to offer."
Over the past season at Arlington Country Day High School, Josephs averaged just under eight points a game and feels that he's set up a role he can continue with in College:
"I'm going to do the same thing, handling the ball on offense, coming off picks, shooting and cutting to the basket, that's what I'm good at and what I need to do."
And his work doesn't just start on the practice court, Kofi has been watching his NBA role models and using their game to try and adapt his own.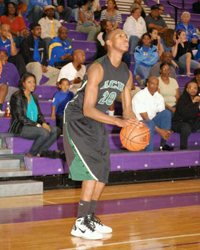 "At the moment I think Kevin Durant is the best offensive player in the world, overall, it's between him and Carmelo Anthony. I try and look at players like KD, 'Melo and Jamal Crawford and adapt my game to suit theirs."
With players like Kofi heading across the pond more and more often nowadays, he believes it won't take too long for Team GB to start making some noise in international waters:
"We will play ball in the Olympics, but the other teams are stronger just because they've been together longer. We're definitely improving so we could cause an upset; the youngsters are beginning to come through."
But, he still feels that basketball still needs to go leaps and bounds here in the UK if we're ever going to see players from here, gaining major success in the NBA or Europe.
"It's very hard to go professional just in the UK; it's all about your game personally. English basketball is stagnant; we don't play enough over here I don't think, and that's hurting our chances of turning talent into success."
Success is one thing Kofi is beginning to thrive on, whether it's watching NBA, EuroLeague or other international games, he's always got a sight on whose coming up top of the pile.
"I'd like to say OKC could win the NBA this year, but I just don't know, it's too early to choose. In terms of Olympics' it's got to be the USA, if not then it's a huge upset, Kevin Durant is too good. But there's always Australia, Germany, Turkey and Spain. All of them teams are capable of playing some good basketball."
But to become one of the best from Britain, he knows he has some great young talent to compete with:
"The best player I've ever played with from the UK is Adam Thoseby who's at Utah State now, he's done really well. But I've basically played against everyone here in the UK so it's too hard to choose the best player I've been up against, but there is some great talent, and I know I have to keep up with them."