By Nick Moore | @nickmoore4kent
Alasdair Fraser, Maine's 6'7" forward, had a very impressive year as a freshman in the US, but the 19-year-old, from Falkirk, has turned even more heads his way this year. The big Scot averaged 12.9 PPG, 7.8 RPG and 31.4 minutes this season for the 12-17 Black Bears, whilst being named America East All-Third team. The Scotland international and GB U20 took the time out to chat to Hoopsfix about how he got into playing, living and playing in the US, and his hopes for the future.
Hoopsfix(HF): Hi Ali, thanks for taking the time out to chat to us. Can you recall what your earliest basketball memory was?
Alasdair Fraser (AF): My earliest basketball memory is playing in a primary school tournament when I was around 10 or 11 years old.

HF: Why did you start playing basketball?
AF: I started playing because as a kid I was pretty overweight and my parents wanted me to get involved in as many sports as possible. They signed me up to a bunch of after school clubs and the one I enjoyed the most was basketball.
HF: Can you give us a brief rundown of your career to date?
AF: I started playing seriously when I joined Falkirk Fury basketball club. The coach, John Bunyan, had coached me in some of the after school classes I went to and I joined the U16 team. When I first started I always came off the bench, but one of our starters got injured, and so I got to start in his place. From then on I moved up in the club playing for both the U18 and senior men's teams when I was still U16. I progressed from there and made the Scotland team at U16 and then played two years at U18 where we went to Euro B (where he led the championships in scoring in 2010 – Ed). From my performances at U18 Euro B, I was scouted by some schools in America – and I eventually signed to come to the University of Maine where I have played for the last two years.
HF: Who were the players you watched when you were growing up? Who are your biggest inspirations?
AF: When I was younger I would go and watch the Falkirk Fury senior team on Friday nights and always used to look up to everyone who played. As I got older everyone used to tell me about Kieron Achara. He played for the same club as me and he used to help at summer camps and things like that. After seeing him and seeing how well he was doing in the US, I started to look up to him a lot and wanted to do what he did and go to the US. He is a huge inspiration to me as he has done what I hope to do. He had a successful college career and is now playing professionally at a very high level.

HF: Was there a stage when you realised you were getting pretty decent?
AF: I think the first year I went to Euro B at U18 was when I realized that I was getting pretty good and that I might have a chance at going to the US to play – which was a dream of mine. This was the first time I had played against players at that level and it let me know that I could definitely hold my own (he averaged 20 and 7, a year young – Ed).
HF: So how did the jump to the US first happen and why did you choose to leave the UK?
AF: After playing at Euro B, a few schools in America were looking at me and I also had the option to go to prep school. I decided that I would stay in Scotland and finish school and then look to go over to the US. I wanted to go to America as I felt that I was already playing at the highest level in Scotland and wanted to challenge myself and get out of my comfort zone. I sent a lot of game tapes to a lot of different schools and got some interest. I ended up visiting three schools: Maine, Wagner and Pepperdine. After these visits I decided that the best fit for me was Maine as they had been recruiting me the longest and I had built up a good relationship with the Associate Head Coach, Douglas Leichner.
HF: How did you find the transition?
AF: The transition was difficult at first as it is a very different game. It is a lot faster and more structured and there are some rule changes which take a while to get used to. I had an advantage as we took a preseason trip to Canada to play some exhibition games so that allowed me extra time to adapt. You have to pick things up quickly, especially as a freshman, if you want to play over here so I always made sure I stayed after practice to get shots up and adapt to the different style. The coaches here helped me a lot with the transition as they recruit a lot of international guys and understand the differences in styles.

HF: What was it like kitting up for the Black Bears as a freshman?
AF: It was scary at first as it was unlike anything I had experienced in basketball before. I started our first two games of the season because of an injury to another player and in the second game we played Maryland who had Jordan Williams (who now plays in the NBA). This was pretty scary at first but was a great experience. As the season went on I got more used to it and got more comfortable. It was a phenomenal experience.

HF: So, how did you feel this season went for you?
AF: This year I started for my team and led the team in rebounding. I averaged around 13 points and 8 rebounds and led our conference in double doubles. I had a pretty good season individually but unfortunately our team record was disappointing – we started off pretty well, but struggled down the stretch as we lost some pretty close games.

HF: When talking about the biggest differences between the UK and the US, what were the things you noticed?
AF: The biggest difference is that basketball is one of the main sports in the US while in the UK it is generally a second or third option for people. There is a lot of money in basketball in the US and people here are very serious about it whether they play or are just fans. The other major difference is the level of the facilities in the US – I was shocked by how amazing all of the basketball facilities are in the US compared to the UK.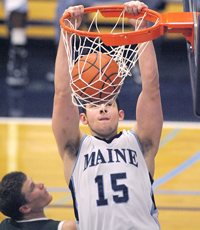 HF: How would you describe the state of basketball in the UK? What do you think the biggest challenges the UK faces going forward?
AF: Basketball in the UK is getting bigger and better. From when I started playing to now, there have been huge improvements in exposure for basketball in the UK. It used to be pretty rare for UK players to play in the NCAA and at high levels but now it seems like there are a lot more guys playing at higher levels. The biggest challenge is to continue to grow and build up the exposure of basketball in the UK. A lot of people do not know how much fun basketball is as they were not introduced to it and were too busy playing other sports but when they do see it they realise how exciting it is. I think that getting basketball into schools for younger kids is key in developing basketball for the future.
HF: You've represented your country internationally, how important is it for you to play on the national team?
AF: It is always great when you get the chance to represent your country and compete with some of the best players at your age. Playing for the national team has really helped me develop as a player and I have learned a lot in playing for both the Scotland national team and for GB.
HF: What role/how much support have Basketball Scotland had in the development of your career?
AF: When I was playing in Scotland and for the Scottish national team they gave me some support in developing – in the form of strength and conditioning training. They helped me get into the central Scotland Institute of Sport (CSIS) who provided me with strength training. This was done through my involvement in a program they had for players who had potential to play at a higher level. Since I left the UK, Basketball Scotland have had very little input into my career as their program does not extend to people who play outside of the UK.
HF: What are your plans after college?
AF: I hope to go on and play professionally somewhere and play for as long as I can. I could not imagine life not playing basketball so I want to be involved in the game in some aspect for the rest of my life.

HF: What are your plans for the summer?
AF: I hope to go to the GB U20 training camp in June and make the squad and then go on to have a successful trip to Euro B.

HF: Will you be coming over to London for the Olympics?
AF: No, I won't be going to London for the Olympics – but I wish I could. I will be watching everything on TV and can't wait to watch the GB senior men compete and hopefully do well.
HF: That's awesome, thanks for your time Alasdair, and good luck for the rest of the season!