In the latest Hoopsfix 1 on 1, we sit down with Chris Haslam, newly appointed assistant coach at NCAA Division 1 school, Montana State University. Haslam, originally from Southport, had a long and successful playing career, going on 13 years after graduating from the University of Wyoming. The 6'11" big man represented both the England Senior National Team for a number of years, and Great Britain in 2006 and 2007. Check it out (questions in bold, answers in regular):
Can we start by introducing yourself to those who might not have heard of you – a brief rundown of where you grew up, your basketball career to date, both playing and coaching?
My name is Chris Haslam, I grew up in Southport which is in Merseyside. I played at the University of Wyoming for 4 years, 1993-97 and was fortunate to play professionally around Europe for 13 seasons before retiring. I played 4 seasons in the BBL for Birmingham Bullets, Everton Tigers and a brief spell at London United. I played 3 seasons in Italy at Messina, Livorno, Teramo and Trapani, 3 seasons in Belgium at Pepinster and Liege, 1 season Greece for Apollon Patras, 1 season in Germany for MBC Weissenfels and 1 season in the Czech Republic for Novy Jicin. I also played for England and the GB team from 1997-2007.
I started coaching my last season at Everton Tigers as Head Coach of their newly formed Everton Tigers Academy. At the end of the season I applied for numerous coaching positions at the college level in the US, NCAA division 1, division 2, NAIA schools, Junior colleges etc. I was fortunate enough to become assistant coach at Lamar Community College in Colorado which is a NJCAA Division1 junior college. I was there for 3 years and this past July was hired on staff at Montana State University, an NCAA Division 1 program that plays in the Big Sky Conference.
What made you first start playing basketball?
I remember watching old BBL games on Channel 4 growing up, watching the likes of Alton Byrd. I also watched some old NBA games that were on TV and really liked the game. My dad played some basketball when he was younger and being tall he suggested I give basketball a try. I loved the game right away.
What was it like growing up as a young basketball player in Southport/England back in the day? How did it differ then to now?
Looking back, I actually had a pretty good basketball upbringing. I started taking the game seriously when I was 16 and I began getting coached at my local YMCA. There were a lot of good young players at that time in the Northwest area so I got to play against good competition in the local leagues.
At age 17 I ended up playing for the Cheshire Jets U23 Team, getting coached by Mike Burton and Joe Forber. This was my first experience of getting coached and developed at a high level. I learned a lot about the game, particularly from Joe Forber. Back then I only had access to train a few days a week and had to do a lot by myself in terms of finding a hoop at a gym to go shoot and work on my game.
I think today that there is a lot more interest in the game and a lot more kids are playing who have better access to facilities and there are more experienced coaches to help in their development, however it is still a long way off from where it needs to be.
How did the move to the US come about? Did you go to High School first or straight to Wyoming?
I was playing at my local YMCA, I had only been playing there for about 9 months, when an American guy, came to play for the YMCA team. He had moved to Southport because of his job and was looking for a place to play. He had played NCAA Division 1 basketball at Purdue University in the late 70's. He approached me one day and asked if I had ever thought about going to America to play. At the time I knew nothing about college basketball in the states or what it entailed.
Originally, I was going to go and live in Indiana and do a Senior year of High School where his kids went, but it fell through because of the High School's rules. I then spoke to Joe Forber about getting over to the states and through a contact of his, I ended up doing a senior year of High School in Savannah, Georgia.
During that year I got recruited by quite a few NCAA D1 programs but my final schools were Virginia Tech, Jacksonville, Florida St and Wyoming. I chose to go to the University of Wyoming.
What were the challenges as a player getting to the States back then? Before the mainstream popularity of the internet, YouTube and mixtapes, how did teams get to hear about you and recruit you?
Back then it was more difficult to get over to the states for British kids. There was no internet then, no YouTube or social media etc. You had to rely on a coach or someone in the UK knowing someone in the states. It was done more by word of mouth. I didn't have any other options but to go to St. Andrew's High School in Savannah. I didn't play any junior national team basketball growing up so no one really knew about me. I got a lucky break!
How do you look back on your college days? What was the transition to the US like and what were your best memories/highlights from Wyoming?
I think we should have, and could have, done better. We never went to the NCAA or NIT tournaments during my 4 years there, we always won a few more games than we lost. It was very disappointing considering the talent we had on some of the teams. It was a difficult transition to make at first. The D1 game is so athletic, so physical and fast, there was definitely an adjustment period for me even after coming out of high school in the states.
I didn't play much my freshman year, minutes were up and down. I started almost every game as a sophomore and got solid consistent minutes for the rest of my career at Wyoming. I do have some great memories of big wins that we had during my 4 years, beating Utah University on ESPN Big Monday when they were ranked #4 in the country. They were stacked that year with Keith van Horn, Andre Miller and Michael Doleac, that was probably our biggest win when I was there.
Did you play as a junior England international whilst back in the US? Or was it just senior appearances after you turned pro? If so, how was that?
I didn't play any junior England basketball before I went to the states or even while I was out in the states. No one in England knew me, playing in Southport I was isolated in terms of exposure in England plus I had only been playing for just over 12 months seriously before I went over to the states.
I think if I had played a little longer for Joe Forber at the Cheshire Jets U23 team I might have been selected to play at the national junior level. My first experience of playing for the National team was at the senior level right after I finished at Wyoming in the summer of 1997. Coach Laszlo Nemeth invited me to a training camp in Hungary, it was a great experience and from that I was lucky enough to play at the international level for the next 10 years.
You had a 13 year professional career – how exciting was it to turn pro with the Bullets and make a living from basketball after you graduated?
It was very exciting getting the chance to play professionally after my time at Wyoming. Europe had just opened up so I was lucky in the timing of it all. I had a bad knee injury my senior year so I didn't have too many pro offers that summer. I got an offer from the Birmingham Bullets and an offer from a team in Austria. They were both for the same money so I chose to come home to play for the Bullets. Being able to play the game and get paid for it was dream come true.
What was the state of the BBL like back then? How do you remember it?
That first year in the BBL, or Budweiser League, as it was known then was great. The league was very competitive with some very good teams and very talented players. The league was well organised with several teams playing in arenas, most of the games were on Sky during primetime slots and there was good money to be made contract wise.
The Bullets had a great team with Tony Dorsey, Nigel Lloyd, HL Coleman, Tony Simms and Clive Allen. We had a great year winning the play offs that season and finishing 2nd in the league to the London Leopards.
Looking back of your playing days, what were the highlights, and which was your favourite team to play for? Did you have any favourite countries?
I was very lucky to have played 13 years professionally. I played in some great leagues against top teams and players. Basketball wise, playing in Greece and Italy was a great experience, they were tough leagues to play because the standard of play was so high. But being able to play against Panathinaikos, Olympiacos, Montepaschi Siena, both Bologna teams, Scavalini Pesaro etc. was very special.
Living wise, I really enjoyed my 3 years in Belgium, the league itself was really good at that time. I played for Verviers-Pepinster and Liege, I played well during that spell also. The area where I lived I could drive 20 mins north and be in Holland, 30 mins east I would be in Germany and 40 mins south I would be in France. So during days off I could go travel and see places that were definitely unique and different.
We always hear crazy experiences guys have from playing in Europe – any particular ones that stand out that you are willing to share?
There were definitely some crazy experiences. I remember playing for Apollon Patras in Greece, we lost in double overtime at home against Olympiacos. Our gym was packed, just over 5000 people, the atmosphere was unbelievable and the game was close the whole time. In the 2nd overtime the referee made bad call, instead of a jump ball which would have meant possession for us, he called a foul which sent Olympiacos to the free throw line. Our gym erupted, I thought there was going to be a riot! The fans threw coins, batteries even mobile phones onto the court. Riot police had to go into the stands to calm things down. It was crazy!
When I was in Italy playing for Livorno, we were playing at home against Siena. It was somewhat of a local derby game, fans were letting off fire-crackers in the stands. In one section of our arena fans clashed and again police had to go into the stands to break things up. I thought the game was going to be cancelled at one point.
You won over 60 caps for both England and GB, how much did it mean to you to represent your country?
It was a huge honour! I think if you ask any player, representing their country is the pinnacle of your playing career. Being lined up with your teammates before a game listening to the national anthem is something I will never forget!
What are your best memories and stand out stories from national team duties?
I have great memories and experienced some big wins during my time on the national team. I will always remember my first cap which against Austria in Vienna, a very proud moment. My first England game at home was in Manchester against Israel at the MEN arena was special too. There was a big crowd for the game, just over 7000 I believe, getting to play in front of my family and friends was great.
I remember we beat Latvia in Riga, it was a big win for us in terms of trying to qualify for the European Championships at the time, Andy Betts had a huge game for us but at the end a few beer bottles were thrown on the court at us, we had to run back to our locker room as fast as we could!
I've heard of some rough times for players representing England Seniors back in the day, running a national team on a shoestring budget is never easy – pot noodle meals, horrendous hotels – was it really that bad or has it been exaggerated?
It was very tough at times playing on the England senior team during Coach Nemeth's time. There was hardly any money for the program; we travelled on budget airlines, in vans not buses, stayed at basic hotels. I felt bad for Coach Nemeth, he was a very good coach who really had the best interests of us players in his heart.
He paid for a lot of things out of his own pocket so we could eat better on the road or stay at a better hotel etc. Things weren't set up for us to be successful, it was frustrating as we had talent – Steve Bucknall, Andy Betts, Tony Dorsey, Steve Hansell, Ronnie Baker, Mike Bernard etc.
One trip in particular to Slovenia still sticks out in my mind. We flew out on an Easy Jet flight from Luton to Austria, a friend of Coach Nemeth picked us up in Vienna in his 16 seat van which had a trailer attached to the back of it for our luggage. Apparently there was no money to hire a bus. We then had a 4 or 5 hour drive into Slovenia in this van, everyone was so cramped we had no room at all. That group of players were very loyal to Laszlo, we wanted to play for him and for our country.
You were involved with the GB programme when it was first re-created in 2006 – how was that? I get the impression it is worlds apart now from where it was when it started?
In the summer of 2006 I got a call from Chris Finch, he told me about the new GB set up, what his vision for the program was and invited me to training camp. The England team had been dissolved a few years before so I hadn't played international basketball and I missed it. Again, it was a great honor to get the call from Chris and I jumped at the chance.
The set up was night and day compared to what it was with the England senior team. There was a very professional attitude towards everything. That first year of the GB team none of the big name players were there, only Andrew Sullivan and Nate Reinking.
The next year, 2007, which was my last year with the GB team was Luol's first year with the program. We had a first class training camp at the IMG facility in Bradenton, Florida. I could tell that the set up was getting better and better which ultimately would put the players and coaching staff in a better position to win.
What are your memories of helping get the team promoted from Division B to Division A?
Those 2 years I had with the GB team, 2006 and 2007, where we won promotion from the B division to the A division, was a great achievement. I knew we would gain promotion in the second year because of the talent we had on the team, that was the best national team I had been on.
Playing with the likes of Luol Deng, Andy Betts, Robert Archibald, Richard Midgley and Roger Huggins was special. However, in the 2006 games that group of players did a great job of putting the team in the position to win promotion in 2007.
Nate Reinking hit a huge shot at the buzzer to force overtime against Albania on the road. We went on to win the game and that was a crucial win in getting promotion.
You retired in 2010, finishing your career with the Everton (now Mersey) Tigers – how different was the league at the end compared to when you first joined?
I retired after 3 years playing for the Everton Tigers at the end of the 2010 season. The BBL league was much different from when I played for the Bullets in 1997-8. Every team but the Newcastle Eagles were playing in sports halls again, the organisation, the standard of play was not where it was at when I was with the Bullets. There were some very good players in the league like Andre Smith, Trey Moore, Joe Chapman and Olu Babalola but there was definitely a lack of depth on every roster.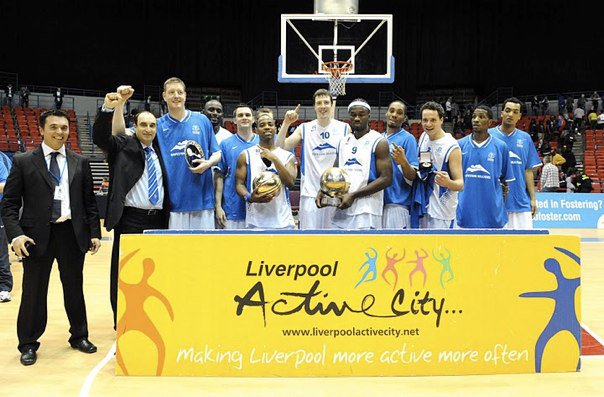 Do you still like to follow the BBL/EB/British Basketball now and keep up to date with what is going on?
I don't really follow the BBL much anymore. I try to follow what's going on at the junior levels now because I am coaching and want to find out about the top young talent in the UK.
How did the transition come from playing to coaching? Why did you decide to coach?
I always knew I wanted to get into coaching after playing. I always liked the X's and O's side of the game, tactics, strategies etc. When Tony Garbelotto became Head Coach at the Tigers I talked to him about starting this transition. He was really helpful and allowed me to start to be involved in the scouting reports and game film breakdown. Then when the Tigers started their Academy program Tony asked me to be the Head Coach there.
You started at Everton Academy, why did you choose to move to the US to continue to coach? Was heading abroad again something that you had planned to do?
I always knew that I would eventually move to the US permanently. My wife is from Wyoming, we met whilst we were both at the university there. We got married after my 2nd year as a pro and she moved over to Europe with me. She fully supported me during my career, I dragged her all across Europe moving to new places and countries most years! I felt it was right for my family and I to live in the US when my playing days were over.
Along with yourself, a number of British coaches are now abroad – Tony in Germany, James Vear in Denmark, Tim Lewis in Japan, as well as other guys in the US college system – why do you think that is? Is it a similar story for coaches as it is for players – the best place to develop/have a career is overseas? Where do you think the UK is getting it wrong in terms of coach development? Do you have contact with British coaches/the BCAUK on a regular basis?
I know a lot of English coaches have moved abroad recently. It is a shame that this has happened but I think it is because of the lack of quality coaching opportunities that are available in the UK right now. There are some very talented young coaches in the UK right now such as Neal Hopkins, Marc Steutel, Tom Sadler who are working extremely hard to move up the coaching ladder. But because of the lack of opportunities in the UK right now there is the chance that they will look abroad also.
It is similar to what young players experience, having the chance to be in a better league, with better structure, better access to facilities, better organisation and stability and being able to get better financial reward also. I speak to several coaches back home regularly such as Lloyd Gardner, Steve Bucknall, Nick Drane, Neal Hopkins and Junior Williams and from my conversations with them, there seems to be a definite lack of opportunity for coaching development in the UK.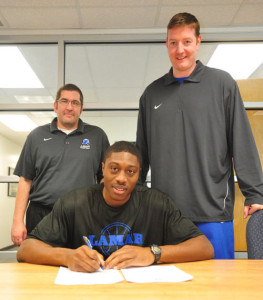 How were your three years at Lamar? Do you think it is important to work as an assistant for a number of years to really work on your craft before stepping up to a head coaching role in the future?
I had a great 3 years at Lamar Community College, I will always be grateful for the opportunity that Coach Schwartz gave me. I really learned a lot from him in terms of how hard you have to work to be successful in the coaching business.
My first year we won the South Division of the Region 9 conference and had the best overall record of 22-8. We had 4 players move onto to play at the NCAA Division 1 level including (Brit) Shore Adenekan (pictured, left) and several other players play at the NCAA Division 2 level.
I definitely think that it is important to be work as an assistant coach for a number of years to really learn and work on your craft before making the jump up to being a Head Coach. Experience is really key!
And how did the new job with MSU come about (congrats btw!)? And what are you hoping to achieve with them?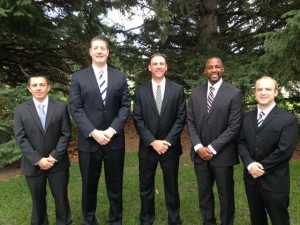 I am really thankful for the opportunity that Coach Huse has given me here to be a part of his staff at Montana State University (Chris Haslam and the 2013-14 MSU coaching staff pictured, right). The opportunity came about as I knew Coach Shawn Dirden, the top Assistant Coach here at MSU. I had been in regular contact with him during the year and he called me one day asking what my plans were for the 2013-14 season and told me that there was an Assistant's position opening up on the staff and would I have any interest. I sent him my resume and then had several conversations Coach Huse, the Head Coach, and was eventually offered the job at the end of June.
The whole process took about a month and was very stressful as I really wanted the job. I am very excited about being here at MSU and think it is a great situation for me and my family. Coach Huse has a very good reputation as a Head Coach and as a person, I am looking forward to working for him and learning from him and the other coaches on staff here.
I am hoping to help the program get better in every facet, not only on the court in terms of wins, winning the Big Sky conference and playing in the NCAA tournament but also in helping our players graduate on time and preparing to them to be successful in life.
Are you hoping to be able to provide an avenue for more British kids to come out to the US?
I am hoping to help more talented young British players get over to the US to play if they so desire. I have been able to help about a dozen kids get over since I have been coaching over here. I had help in getting over when I was 17 years old and want to give back to young players back home.
I also want to help young kids get the right advice also. Too many British kids get poor advice where they find themselves in situations in the states where they can't be successful and find themselves back at home no better off than when they went. A lot of kids need educating about getting through the NCAA Eligibility Centre, what they need academically to be a NCAA Division 1 or 2 qualifier, what the right level is for them, what Junior College entails, finding the right Prep school if they go down that route etc.
Would you like to be involved with coaching England/GB national teams in the future?
I definitely would like to be involved coaching on the national team level in the future, be it with one of the junior programs or the senior GB team. It would be a tremendous honour! It would be great if one day all the Head Coaches and Assistant Coaches of our National teams at every level were British!
Where do you think it is that young British players are lacking in compared to their European counterparts? Are there any recurring themes?
I think that there is so much talent in Britain! Maybe more so than anywhere else in Europe in terms of raw potential. I think that it has always been that young English players lack the fundamental foundation of the game compared to our European counterparts.
As a whole, we are more naturally athletic but are behind in our basketball IQ and feel for the game. I think a lack of quality coaching at the crucial developing ages of 12-16 has a lot to do with it.
If you look at the success of our Junior GB teams this summer that gap is closing fast to the top nations though! If our young kids can get the right quality of coaching on a consistent basis then this gap will continue to get smaller and smaller.
You've become known as a big man specialist, I've seen some comments you've made about all the big men nowadays wanting to be able to handle the ball on the perimeter and shoot threes – why do you think this transition has happened? What happened to the traditional big man?
Haha! The art of playing in the post with your back to the basket is a dying art! There definitely aren't as many true big men around nowadays, which is a shame. I think part of it is due to the NBA, young bigs see Kevin Durant and LeBron James playing on the perimeter and want to emulate that. NBA players today are bigger, stronger and more athletic than ever before. The NBA game has shifted towards spacing and having a player or two who can consistently drive to the basket being surrounded by shooters.
In Europe the same thing, spacing is even at more of a premium because there are no help side defensive rules so big men must be able to spread the floor and shoot from the outside otherwise the man guarding them can sit in the paint and clog things up.
I also think that there are a lack of big man coaches, I have seen post players here at the college level getting taught post moves by a 5'8 coach! That would be the same as me teaching our PG's how to play. I can do it to a certain level but not to the level that they need.
Maybe it is a trend for right now that they game is becoming more perimeter orientated? I hope that the traditional big man becomes fashionable again and we see more of the Shaq's, Tim Duncan's, Hakeem Olajuwon's very soon!
What advice would you give to other young British coaches looking to have a professional career like yourself?
For other young British coaches, I would advise them to keep consistently working on their craft. To be always learn new schemes, drills, ideas, philosophies etc. And don't be afraid to ask for help or advice. I have always found other more experienced coaches to be more than willing to talk basketball and share their ideas and beliefs about the game.
What advice would you give to young British players looking to forge themselves a successful playing career like you did?
For young players coming up my advice is to work work and work! You have to work for everything, don't think that you are entitled to anything. It isn't easy being good!
You must work on every facet of the game and master the fundamentals which means having great footwork, being able to pass, shoot, rebound, play defense etc. I also believe knowing how to play the game on an intellectual level is critical! You can't be a top player without having a basketball IQ.
To be a top player you must have an inner drive to want to work, to compete every day and be tough both physically and mentally.
And what are your hopes for the future? Where would you like to go from here and over the next 5-10-15 years?
My hope for the future is to help Montana State be the dominant program in the Big Sky conference and to be able to play in March Madness year in, year out. Ultimately, my goal is be a NCAA Division 1 Head Coach and be the Head Coach of the GB Senior team.
Massive thank you to Chris for taking the time to do this interesting and insightful interview. You can follow him on Twitter @cjhaz14 and MSU Bobcats this season at their official website.

Image Credit: Mikeshaft.com/University of Wyoming Media Communications