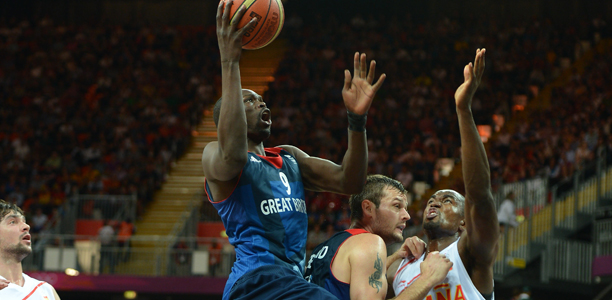 Great Britain star Luol Deng has said he will likely skip this summer's Eurobasket in what is a major setback for the team's chances of success.
The Chicago Bulls forward, who has had a non-stop schedule over the past few years and played at the London 2012 Olympics against his club's wishes whilst nursing an injury feels he needs some much deserved time off.
Speaking to MVP magazine at NBA All Star Weekend yesterday, where he'll make his second consecutive appearance this weekend, he said:
"I've said it before, I'm not sure 100% if I'm playing, most likely I'm not. I would like to have a season where, or a summer, especially this summer coming up, last year I wanted to do the Olympics and I showed how much I wanted to do it. But this summer coming up I think I'll tone it down a little bit more.

"It doesn't change the fact that I will be with the team or not. But I said that even before the Olympics."
With British Basketball's funding recently reinstated, but only for one year with the rest dependent upon hitting certain performance targets which will no doubt be linked to success at Eurobasket, the news is a huge blow for the team. The championships in Slovenia represent the first time Great Britain have not been drawn in the "group of death", as they take on France, Germany, Ukraine, Belgium and Israel in Group A.
Luol has been instrumental in the team's rise to relevancy over the last few years, being the leading scorer at the Olympics, averaging 15.8 points per game, and arguably the best player at Eurobasket 2011 where he averaged 22.6 points (3rd in the tournament), 8.3 rebounds (4th), 3.1 assists and 1.9 steals per game.
Thoughts? What are the team's chances without him?