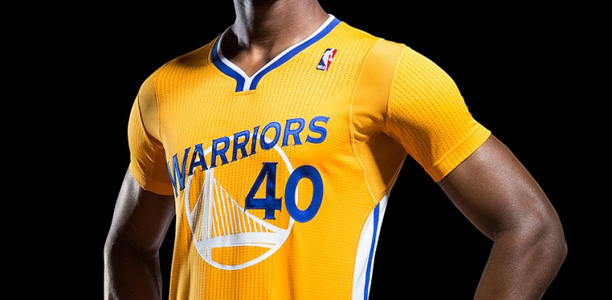 The Golden State Warriors are about to take one giant leap (or step backwards?!) for NBA teams when they debut the first modern short sleeve NBA Uniform System, made by adidas, against the Spurs next Friday (22 Feb).
The adizero short sleeve NBA Uniform System is 26 percent lighter than the Warriors' current uniforms and is developed for optimal performance on the court.
From the official release:
"Players on every court like to have a unique sense of style," said Lawrence Norman, vice president, adidas global basketball. "We were excited to work side-by-side for the last 18 months with the Warriors, one of the NBA's youngest and most exciting teams, to develop this unique uniform system that helps maintain peak player performance while ensuring comfort, fit and style."

In addition to being the Warriors' lightest uniform to date, the adizero short sleeve NBA Uniform System features the first-ever super lightweight stretch woven short with maximum ventilation for player comfort. The jersey includes armhole insets with 360-degree stretch fabric that facilitates free range of motion for the arms and shoulders. The adizero short sleeve jersey allows for maximum movement in all phases of the game, equal with that of a traditional tank basketball jersey.

Throughout the evaluation process, adidas received positive feedback from players at all levels on the uniform's performance and innovative style. "When adidas began working with us to develop the short sleeve jersey, I couldn't wait to wear it in a game," said Warriors forward Harrison Barnes. "I love the fit and style the sleeves give me on the court."

"Partnering with adidas on this new uniform demonstrates the Warriors' commitment to innovation and the progressive culture of the Bay Area," said Rick Welts, president and chief operating officer of the Golden State Warriors. "The jerseys complement our players' style on the court, but are also a nod to the style of our fans and the spirit of the Bay Area – innovation is ingrained in our culture."

The uniform system is made from 60 percent recycled materials and features adidas' Revolution 30 technology found in current NBA uniforms. Launched in the 2010-11 season, Revolution 30 technology is a lightweight uniform system that dries twice as fast to improve performance. The new uniforms also include a ClimaCool system and FORMOTION technology that combine to increase comfort for the players.
What do you reckon? A good look or a big no-no?