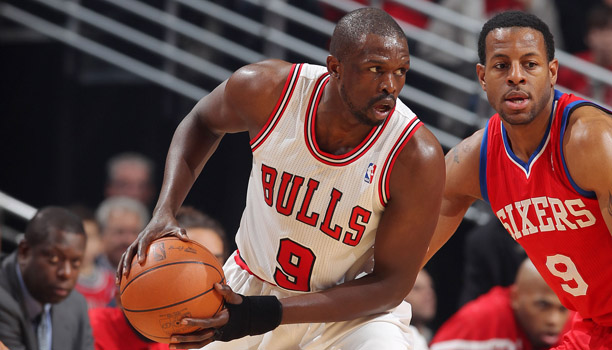 Luol Deng is "becoming a Bulls franchise legend", according to well respected Chicago Bulls writer Sam Smith, as he continues to climb amongst the team's franchise leaders.
In the article posted on his Bulls.com blog, Smith said:
"…as the Bulls prepare to open the preseason Tuesday at the United Center against the Memphis Grizzlies, Deng is coming in without the rehabilitating Derrick Rose as arguably the most impressive player in training camp and the veteran leader of this latest new Bulls team.

The consensus among several players and coaches after the first week of training camp is they've never seen Deng playing at such a high level, both shooting the ball well and going effortlessly off the dribble in addition to his fine defense.

While Deng isn't, as usual, a particularly vocal leader–Richard Hamilton has tried to assume that role with several talks to the team–Deng has proved inspirational with his relentless play and effort.

And it seems appropriate as Deng is officially entering the status as one of the all-time Bulls franchise greats.

There have been difficult times, like the stress fracture that kept him out of the 2009 playoffs and resulting declines in production which had many questioning his value to the team. But now entering his ninth season with the Bulls, Deng has become one of the franchise's top players.

Only Michael Jordan, Scottie Pippen, Jerry Sloan, Bob Love, John Paxson and Tom Boerwinkle played with the Bulls longer than Deng. Deng ranks seventh all-time in franchise points scored, sixth in steals and 10th in rebounds. He is one of 14 players in franchise history to make an All-Star team.

And without Rose for at least half the season, Deng is most likely to emerge as the player the Bulls will look toward for leadership and aplomb in stressful times."
Deng led Chicago in scoring in their first pre-season game, a victory over the Grizzlies, as he had 18 points on 4/8 shooting in just 23 minutes. Read the full article over at Bulls.com blog
How do you think Deng and the Bulls will do this season?
Image Credit: Gary Dineen/NBAE via Getty Images